With experience, designers are able to decode a few things about having the right design process, accessing the creativity switch in them without feeling burnt out.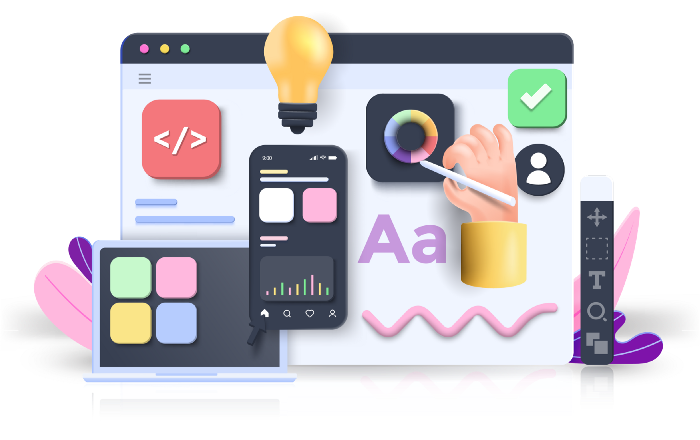 Who is this blog for?
⭐ For creatives facing issues being consistently creative
⭐ For anyone who is a self-taught designer and feels a gap in their design process
⭐ For creatives who are feeling that their work is not up to a certain standard
What you can expect further in this blog?
One actionable piece of advice is divided into small steps. These steps are secrets that improved my work and I learned them from my 5 years of experience.
Successful design formula
We are about to discover the formula which is going to help you critique any design work and also help you find out if your design is good or bad. Keep the rule mentioned below in mind while observing others' work or critiquing your own.
The rule ie "Communicating right message with clarity to target audience in 30 seconds"
This rule has three parts:
Communicating the right message with clarity Pro tip — While designing for any purpose keep prioritising the information in a hierarchy. The one on top should be the one that your target audience points out most easily.
To the target audience Pro tip — Before picking in design tools, interact with the potential customers or research them a little. So, that you design for them and when your designs are before their eyes they can relate with it.
In 30 seconds Inspired by John Maxwell's 30-second rule where he quotes "if you really want to win with people, say something encouraging within the first thirty seconds of every conversation" In a similar sense, if your design successfully conveys its purpose to the viewers in 30 seconds, you have done it right! Pro tip — Test your design with 3 to 5 potential users. Let them view your design for 30 seconds. Do not ask for feedback rather frame the question like "What do you think it was about?". If their takeaway is similar to the intention with which you designed, it means you have nailed it. In case you do not know a potential user, you can test it with someone whom you know and who is close to the potential user set.
Now, I am going to reveal the secrets —
These secrets add to your design process the edge that experienced designers have over amateurs. Also, they help you achieve the successful design formula:
1. Leave your designs overnight
Look at it with fresh eyes the next day. This works like magic! Because when we keep working on one thing monotonously we are not able to look at it critically. If you don't have a lot of time then take at least 2 to 3 hours off and immerse yourself in some other activity. Come back to your work and you will notice the difference in your own perceptions of your work.
Notice whether your design is working on the hierarchy we discussed above or not. And introduce the changes you feel are needed to meet step 1 of the formula. Similarly, test step 2 & 3 of the formula too.
2. No emotional attachment with work/ideas
If you sense an emotional attachment with your work ie you are either stuck on one idea only or you feel hurt by the feedback you received from a client. Then you need to understand that you are allowed to get emotionally attached to conveying the right message but not with the ideas or explorations. Your work needs to keep on evolving using others' feedback or your own critique and focus on conveying the right message to the right audience in minimum time.
3. Question the existence of every element in the design
Keep this in mind and you will find yourself out of the complexity of using 1000 types of shapes or elements in your design that are not helping to communicate rather blocking the way for the target audience's eye to fall on the right place.
Remember, if its getting in the way, throw it away!
Every single line or shape in your design should lead viewers' eyes toward the space which is on top of the hierarchy in the design.
" Design is a tool of communication and has to be used wisely ".
Usually, we see a lot of gradients or illustrations is used. Though they are eye-capturing when you test the users with a 30-second rule to check if they know what it was about, you will find them blabbering about those extra elements but not the core idea being conveyed.
4. Do not just depend on design trends
Do not depend on design trends to make your design look cool and attractive. It might be good for exploring but sometimes when it fails the above formula of conveying the right message with clarity to the right audience in 30 seconds, it all goes haywire.
Design trends are not the most effective tools when they take away too much attention towards them and functionality suffers. If they block the communication happening between user and design, they have failed the purpose of design badly.
Trends are the tools that we can use to leverage existing businesses' visual language (brand language) and scale the impact of appealing or attracting their target audience effectively for a short period of time. Make sure you do not depend on them.
Recapitulating the above ideas shortly here for you
Successful design formula "Communicating right message with clarity to target audience in 30 seconds"
Leave designs overnight untouched
No emotional attachment with work/ideas
Question every element in your design
Do not just depend on design trends
Take a screenshot or copy them. Keep them handy so that the time you have spent reading till the end gets useful and actionable when needed.
Approaching your next project with these ideas in your mind, you are definitely going to notice the growth in you as a designer.
Appreciate your time!
Hope you found it insightful 😇
About me
I am a self-taught Brand Identity & UI/UX designer who started learning and practising "graphic design" in 2017. I completed my Bachelor's of Technology in Computer Science.
For me, the task of learning graphic design fundamentals was a challenge and I had to figure out the resources on my own. I didn't know where to start and which resource to rely on.
Now with approximate 5 years of experience, I have decided to share the resources that guided me on this journey.
Feel free to connect with me if you need any sort of guidance. I do not charge or sell any courses, for now, just here to share my experience.
Blog, Design Thinking, UI Design, UX Design
" Design is a tool of communication, use it wisely."
View all the resources and find the best to optimise your design process.